Traditional and Nontraditional
Religious – Nonreligious – Interfaith – Intercultural
Reaffirmation of Vows – Elope – Instant Weddings – Baptism – Christening – Funerals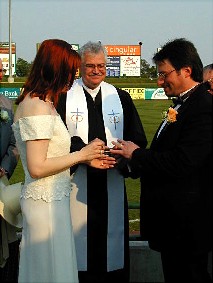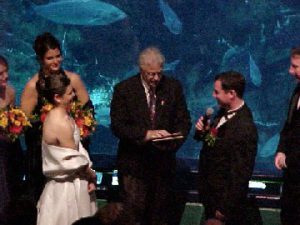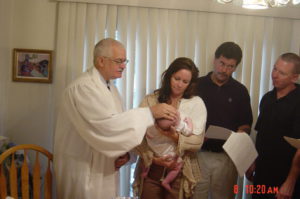 Serving most of New Jersey
________________________________________
Rev. Bob Martin is a Minister with warmth, and professionalism. He has a willingness to do whatever it takes to make your ceremony the way you want it to be and to reflect your needs. You can choose one of his many ceremonies, or write your own. You can read your marriage vows, repeat after the Minister, or just say "I do". The result is an exquisite and memorable ceremony for you.
You will have no surprises at your wedding ceremony. You will know what is going to be said. Your ceremony is about you, the bride and groom, not about the celebrant. Rev. Bob is committed to working with you to create a ceremony that will reflect exactly what you want.
Rev. Bob will officiate at weddings in hotels, banquet halls, parks, chapels, the beach, the ocean shores, your home, roller coasters, on boats (as NJ law permits, it must be tied to a dock or pier), themed weddings, stadiums, or where ever you want. Entering the new millennium, wedding ceremonies and wedding locations have changed. Brides and Grooms today are choosing to be married at locations that would have surprised our grandmothers and grandfathers. Rev. Bob has an open mind about his views and ceremonies, he would be pleased to perform your ceremony, anytime, anywhere, anyway. (He will gladly help you elope too.)
In order to be married in New Jersey, you will need to obtain a marriage license (click here to view what you need to apply for your license and to view/print an application).
NJ Title 37:1-3 Where marriage license to be obtained>>> The marriage license shall be issued by the licensing officer in the town/municipality in which either party resides or, if neither party is a resident of the State, they must apply in the town/municipality in which the proposed marriage is to be performed.
You will need one adult witness who knows both of you, to be present at the time of the application. You will be asked; the date, time, location, and the name, address, phone number of the officiant.
Once obtained, the ceremony can be anywhere in NJ (except if the bride and groom both live out of NJ, then they must be married in the town where the license was issued). The fee charged by the state of New Jersey for the license is $28. Blood tests are no longer required in New Jersey. Rev. Bob can not solemnize your wedding if the marriage license is not valid, void, has expired or is missing. DO NOT write on or sign your license, this will void it!
You may pick up your marriage license after a 72 calendar hour waiting period from the moment of the completion of the application and when the registrar's office is open. When you pick up your marriage license, it valid for 30 days. It can be applied for up to one year in advance (just don't pick it up until you are within 30 days of your marriage). Click here to read/obtain an application. Except as provided in sections 37:1-4 and 37:1-5 of Title 37, "the license shall not be issued by a licensing officer sooner than 72 hours after the application has been made". Also, you must have 2 adult witnesses at the ceremony who shall also sign the marriage certificate. (In some cases, and when prearranged, Rev. Bob can provide witnesses for the ceremony. Anyone over the age of 18 can be a witness.)
Rev. Bob will file your solemnized license with the municipal registrar of vital statistics in the township where the marriage ceremony was performed. He will give you a keepsake copy of the license along with a keepsake lithographed marriage certificate. Most local registrars are able to issue you certified copies of your marriage license, which the bride will need to change her last name. Certified copies are also needed for many legal issues through out both of your lives. If you can't get them in the town where you were married, read the NJ State Department of Health Vital Statistics web site.
Rev. Bob, by law, can not issue or obtain certified copies.
Please email to discuss fees and availability
Rev. Bob Martin, Minister
Box 348
Waretown, NJ 08758
609-607-1616 call or text
Please include Wedding date, time, & place
Email > Rev-Bob@weddingminister.com
Skip back to main navigation